George Carlin Dies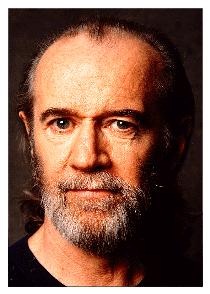 Sunday, June 22, 2008 – Multi-award winning comedian, some-time actor and full-time "hold everyone accountable" straight shooter, George Carlin died of heart failure at St. John's Health Center in Santa Monica, CA.
Carlin was born in the Bronx on May 12, 1937, and grew up in New York.
He is survived by his wife Sally Wade; daughter Kelly Carlin McCall; son-in-law Bob McCall; older brother Patrick Carlin; sister-in-law Marlene Carlin and longtime manager, business partner and friend Jerold Hamza. Carlin's first wife, Brenda, died in 1997.
I grew up with Carlin on HBO, his first HBO special was my first stand-up comedy experience, and while I'd love to include some of my favorite George Carlin Quotes in this piece, it's near impossible to do so without violating my own language rules for this blog… oh, the irony.
What I can and will say is that while Carlin made a career in comedy, he lived a life in observation which came through in his acts. George didn't just make fans laugh, he made everyone who heard him think–regardless of their political leanings. He was the master of pointing out our social blemishes, cultural farts and corporate servitude.
Goodbye George, you will be missed by many.
Popular Writings
Categories:
One Response
Hi, I like your site. It has a nice layout. I will miss George, but not the George in the White House – that f-in' neocon!

Reply to this specific comment

by Ian B on Jun 25, 2008 at 6:10 am